Pegasus Express
The intra campus shuttle service named the Pegasus Express is designed to provide transit mobility services around the campus. There are eleven designated shuttle stops that serve the most populated buildings, which allows parkers to ride the shuttle and leave their vehicles parked. Any constituent visiting the campus may have complimentary access to this service. All shuttles are ADA assessible and operate continuously on class days (except Saturdays).
Summer Hours 7:00 a.m. – 4:00 p.m.
Spring and Fall Hours 7:00 a.m. – 7:00 p.m.
Pegasus Express
On-Campus
Pegasus Express
1) Student Union
7) Ferrell Commons/Recreation & Wellness Center
2) Lake Claire Community
8) Nike, Hercules, and Neptune Communities Center and Visitor & Parking Information Center
(lot B6 during Fall and Spring semesters)
3) Addition Financial Arena/Knights Plaza/Towers
9) Library/Millican Hall/Apollo Community
4) Engineering/Business/CREOL/Research 1
10) Teaching Academy/Howard Phillips Hall
5) Physical Sciences/Student Health Center
11) Lynx Transit Center
6) Nike, Hercules, and Neptune Communities/Red Coach Connect
Shuttles operate Monday through Friday when school is in session from 7 A.M. – 7 P.M.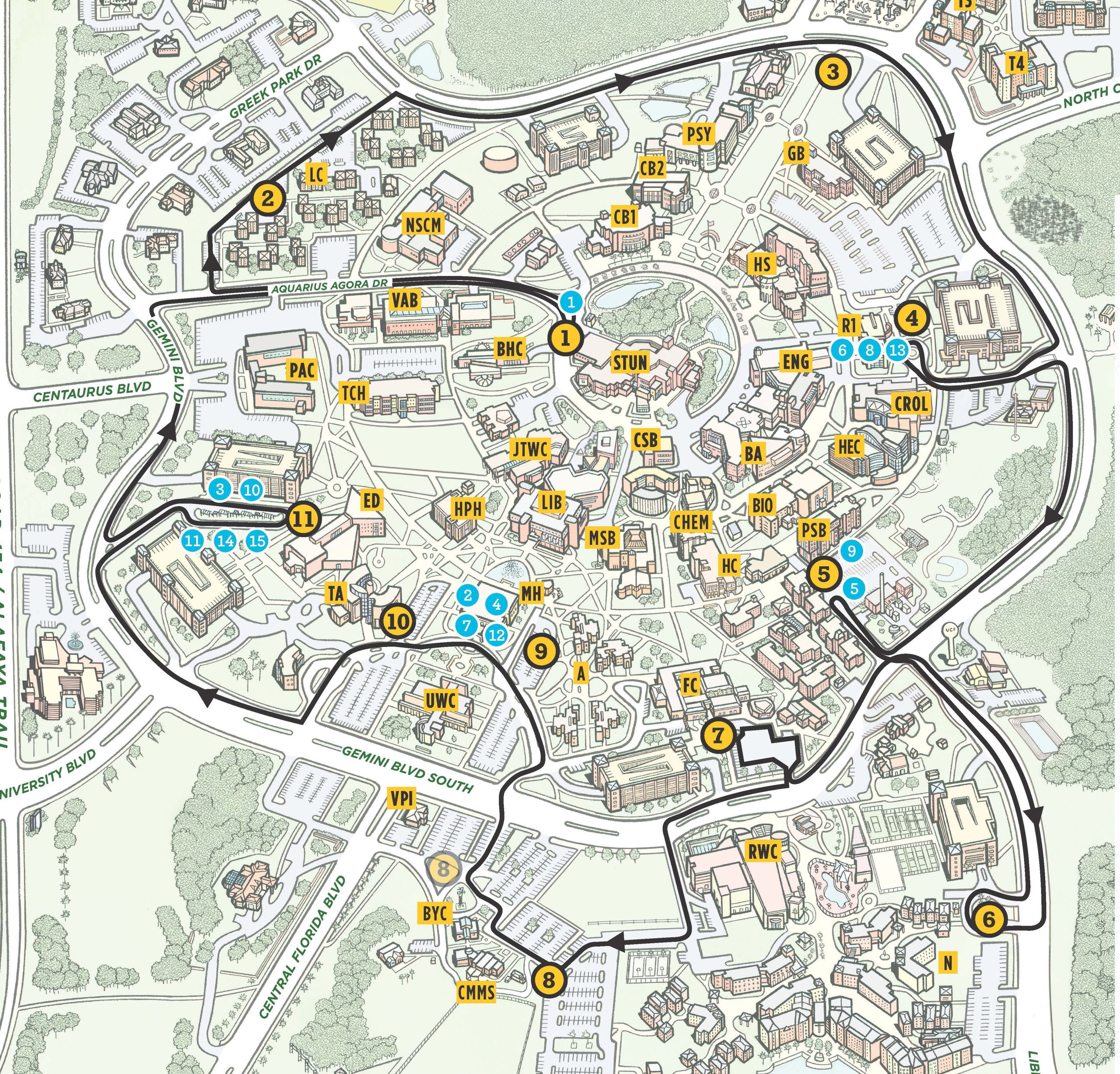 Shuttle Guide
Double Maps GPS Tracker
Did you know?
Shuttles do not operate on non-class days
Martin Luther King's Birthday
Memorial Day
Independence Day
Labor Day
Veteran's Day
Thanksgiving